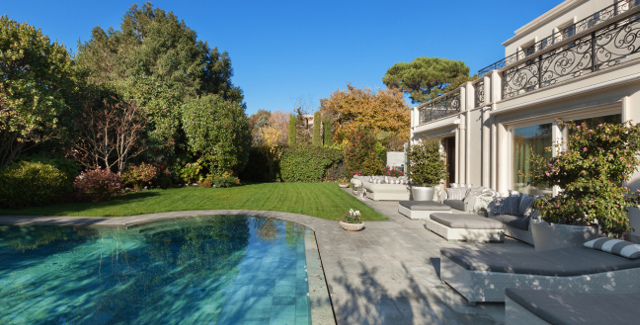 Ah, the sweet smell of chlorine water on a hot, sunny day. Makes you want to go for a swim, right? Well, if you can afford it and your backyard is ready, start now to plan for the dig.
Cost. In-ground pools can run upwards of $65,000, with many cost related factors to consider.
Ground around. Consider whether the slope of your backyard is conducive to a pool at all. Installing a pool on ground that is not level jacks up the cost considerably and may make it unfeasible. In addition, make sure that the placement of the pool puts it in direct sunlight and that surrounding trees won't make cleanup a nightmare. Also, make sure that lines of sight from the house are attractive. If you can't see the pool from the house, it will make it less attractive to buyers when and if you sell. One more thing—make sure whoever is going to dig does so with full knowledge of what's underneath for mains and power lines!
Size and shape. In addition, think long and hard about the size, shape and placement in relation to the rest of the yard. Too small or too big will forever look weird relative to the other non-moving parts of your yard—driveway, house (of course), gardens and outbuildings.
Lot coverage. Lastly, check with your city planner for lot coverage restrictions. In the Rogue Valley each planning jurisdiction has specific lot coverage maximums based on which residential zoning you live in and the planning department will need to issue a permit before you start. The process and lot coverage restrictions differs from Ashland, to Talent, to Medford, etc… Think of it as the maximum impervious surface allowed on each individual lot in your neighborhood. Typically, all areas covered in cement like your driveway or patio are included along with your home. If you find that you're close to the maximum lot coverage allowed on your lot you may have to plan for a smaller pool area. Any broker on the Gateway team can point you to the appropriate planner for consultation.
A pool can be a sensational addition to your property. Just know what you're doing before you dive in!