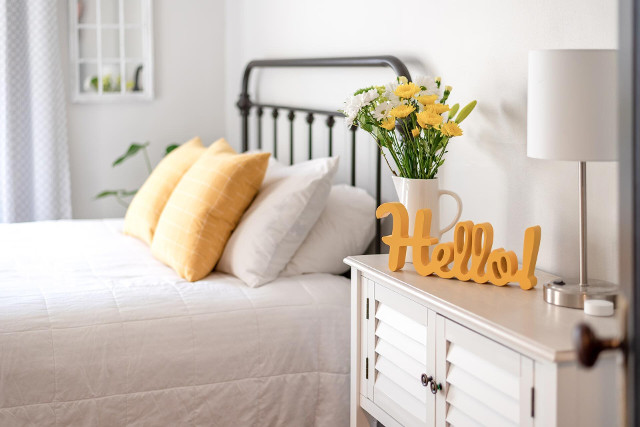 This time of year, many people are welcoming guests into their home for the holidays. If you're planning how to outfit your guest room for grandma or your favorite uncle, here are some tips to add to your guest room, to make it the best room in the house!
Set up a small coffee and tea station on a dresser. Just like a hotel, your guest will appreciate making their own coffee or tea with a small coffee/tea maker in their room. Offer a range of coffees/teas and sugar and creamer, as well as honey to make them feel right at home.
Make a snack basket with your guests favorite snacks that they can have right in their room. You never know when your guest might enjoy a midnight cookie!
Add a bedside table, if there isn't one. Include a reading lamp, tissues, several interesting books, as well as a water carafe and drinking glass. And don't forget a charging station for their phone.
Be sure to leave a dresser drawer, shelf and closet space with hangars for your guest's belongings. And help them with a place to tuck away their suitcase.
Make sure there is a supply of extra pillows and snuggly blankets nearby, so that your guest can be as comfortable as possible during their stay with you.
In the guest bath, include a plush towel set, and even a bathrobe if possible. Guest soaps and towels by the sink are also appreciated.